The Department of Organic Chemistry of Palacký University in Olomouc offers chemicals for commercial use as well as custom contract research synthesis of requested substances. Our equipment allows for the preparation of a large variety of chemical compounds, we are able to isolate the compounds from mixtures, natural resources, all compounds are being purified, identified, and fully characterized appropriate analytical methods. If interested, do not hesitate to contact us.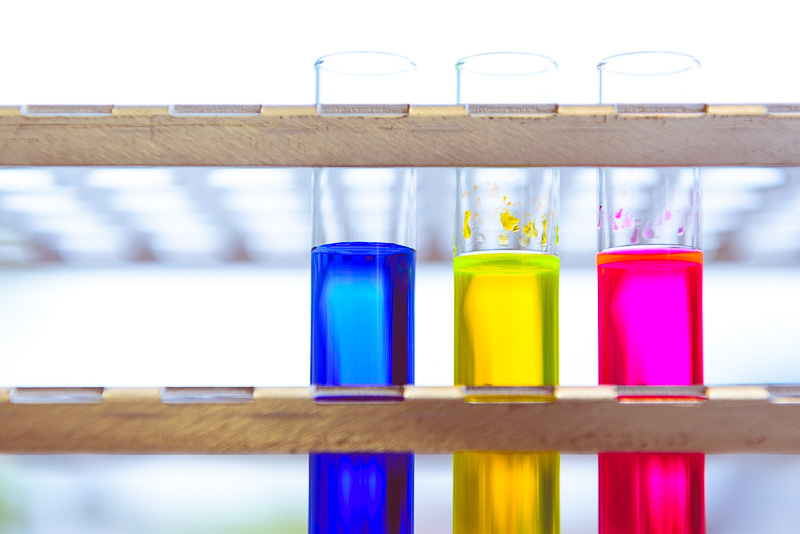 Preparation of chemical standards, optimization of syntheses and verification and development of technologies according to the assignment in the Scale Up Laboratory in Olomouc, whose main objective is the realization of technological development, transmission and commercialization, as well as the production of chemicals in smaller scale.
Development of new synthetic procedures for the synthesis of novel compounds and optimization of existing procedures, specific research of the synthesis of specified chemical intermediates for  pharmaceutical company Farmak s.r.o. aimed at the production of generic pharmaceuticals.
 Development of indicators for determining of the quality of aquarium and garden ponds water for DAJANA PET company dealing with both freshwater and marine aquariums. Specifically, a pH test to accurately determine the pH value, a KH test to measure carbonate hardness, a GH test to determine total water hardness and a nitrate test. All products are commercially available and successful on the market.
 Development of foamless degreasing agents and development of cleaning agents for tanks made of polymers for REMACHEM Company, which offers high-performance industrial chemicals of the new generation.
Optimization of technology for Swiss company AZAD Pharma AG, active in sale and marketing of Active Pharmaceutical Ingredients (API) and further development of finished pharmaceuticals.
Development of original substances on demand for the Slovak Agricultural University in Nitra.
Identification of unknown products of decomposition in samples of eye drops for TEVA which is a pharmaceutical manufacturer of generic medicines.
Design of technological solutions to reduce lead content in saline solutions, collaboration in the design of inorganic technology with Macco Organiques s.r.o. dedicated to the production and distribution of inorganic salts for infusions and dialysis solutions, pharmaceuticals, biotechnology and more.
Measurement of substances by IR spectrometer. Testing and identification of raw materials, intermediates and pharmaceuticals on the FTIF Nicolet iN10 facility for Alven Laboratories, a pharmaceutical company focused on the research and production of both original and generic APIs.
Design and development of  technologies towards industrial scale for the company MIRIYA Pharma GmbH.
Preparation of standards for non-lethal warfare agents for the University of Defense Vyškov.